POST OPERATIVE & RECOVERY WEAR
The Cat model fits both male and female cats. It has a collar with a drawstring mesh, which allows proper adjustment to the animal's neck, so that it is comfortable and does not tighten around the throat.

Size Chart
The size of the PetVet Wear® should be measured from the collar to the base of the tail.
The following measurements represent the size of the cat and do not reflect the actual length of the garment.
If pet measurement falls in between two sizes, we recommend using the next larger size.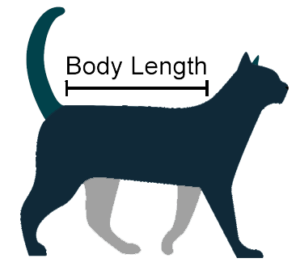 | | | |
| --- | --- | --- |
| Size:  | Body Length:  | Recommended for *:  |
| 0 | up to 11" | XX Small Cats |
| 1 | 11" - 13" | X Small Cats |
| 2 | 13" - 15" | Small Cats |
| 3 | 15" - 17" | Medium Cats |
​

How to wear
Step 1: Open the Velcro straps at the bottom and release the drawstrings on the neck.
Step 2: Gather the entire vestment like an accordion up to the neck. Then slide the vestment over the pet's head.
Step 3: One at a time, pull the front legs through the front holes in the vestment.
Step 4: Pull the suit back over the pet's body.
Step 5: Close the Velcro straps adjusting them to the pet's size.
Step 6: Adjust the collar and make sure the genitalia is free and well accommodated. Pay special attention that the male hygienic opening is well-positioned, with the genitalia free and the stitches covered.
Step 7: The pet is ready for a safe and comfortable recovery!

Care Instructions:
• Always turn inside out for washing;
• Close all Velcro before washing;
• Using a laundry bag is recommended;
• Do not put the PetVet Wear® in the dryer;
• Do not iron;
• Do not use bleach or other chemicals to clean it;
• Preferably use baby laundry detergents.


Have your logo printed for
free

!

PetVet Wear® is the only company to offer a line of Post-Operative Recovery Wear that carries your brand!
The only Post-Operative & Recovery Wear that carries your brand!