Frequently Asked Questions
Are there any charges to have my logo printed onto my PetVet Wear®?
One-color logos are completely free! Although, any additional colors incur a $0.50 fee each per piece.
What should I do if I don't have a logo?
You may place orders without logos, or we can have our art department create one free of charge.
Does the pet owner need to take the PetVet Wear® off to walk the pet?
No, PetVet Wear® has special higyenic openings that allow the pets to do their necessities while still protecting their stitches.
How do I tell which size fits the pet?
You can consult our Sizing chart here, and from there, estimate which clothing size you'd need. If you're unsure  we'd recommend going for the larger size.
How should I measure the pet in order to choose a size?
Measure the pet from the base of its neck to the base of its tail. Additionally, visit the product tab and go to the size chart for more detailed information.
Which model should I buy?
Each model has its special design. It's simply a matter of preference.
Do you offer darker colors?
No, we offer light colors to allow for rapid detection of any discharges.
Is PetVet Wear® washable?
Yes, it is machine washable. Please visit our "Care Instructions" tab for more information.
How should my first order look like?
We recommend ordering one suit of each size and reordering as needed. We also recommend trying both models to see which model is preferred by your clinic and its patients.
How do I place an order?
We only sell our products directly to veterinary clinics. To place an order, you can simply contact us by E-Mail, our Contact Form, or give us a call at 954-800-4966.  We can then send a link to our order form through which you can reorder as needed.
Why did I not receive an order confirmation?
If you placed an order through our Order Form link, you should receive an automatic reply confirming your order. If you placed an order through the phone or by e-mail, you can expect to receive confirmation within 24 hours after placing the order. Please check your spam box as automatic replies might be filtered as spam.
Do you offer bulk discounts?
We do offer bulk discounts for orders upwards of 100 pieces. For more information on bulk discounts, please e-mail us at info@petvetwear.com
What is the turnaround time?
Due to the customization process, it can take up to 10 business days to receive the order you've placed.
What payment methods do you offer?
Currently, we accept Checks, Credit Cards, and PayPal.
What address should I send checks to?
Checks should be sent to:
PetVet Wear
12080 SW 127th Ave Ste B-1 #179
Miami, FL 33186 USA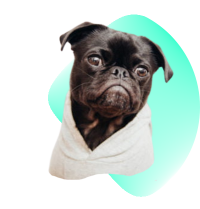 The only Post-Operative & Recovery Wear that carries your brand!